INDUSTRIAL ELECTRICIANS
Decades of experience dealing with

complex, time sensitive

industrial projects is what makes ATS so unique, and our industrial electricians amongst the best today.
Our team have worked on a number of large industrial projects with BHP Steel, Victorian Govt and more to create custom solutions that suit their needs and budget. At ATS, our industrial electricians pride themselves on performance, and this is demonstrated by our long list of happy clientele and repeat business.
Below is a quick snapshot of a few projects led by our talented industrial electricians. This is just a small sample of our award winning work. As ATS continues its march to further growth and success, our industrial electricians lead the way. Although we're very proud of our past projects we understand that every job has its own challenges. To discuss your own requirements, please contact us on 1300 287 000. We would be more than happy to discuss your needs.
Industrial Electricians Project:
Victorian Government Powerline Safety Trials
ATS was appointed to assist with the trials management and handles the overall management of the trials development, customer liaison and implementation. This included community meetings, generator equipment tenders, site selection, system installation & compliance processes.
Industrial Electricians Project:
BHP Bluescope Steel Lysaght Relocation Project
ATS were engaged to relocate 17 steel roll forming machines from the Nunawading plant to this new Lyndhurst plant over an incredibly short time frame of 4 weekends - thus ensuring minimal disruption to tight BHP production schedules.
Our industrial electricians were required to co-ordinate with the Mechanical Engineering firm, AB Downs, to ensure the smooth process of disconnection, transportation and reconnection of machinery.
Over the duration of the project, ATS provided BHP with a far superior result by completing agreed additional works over and above the specification.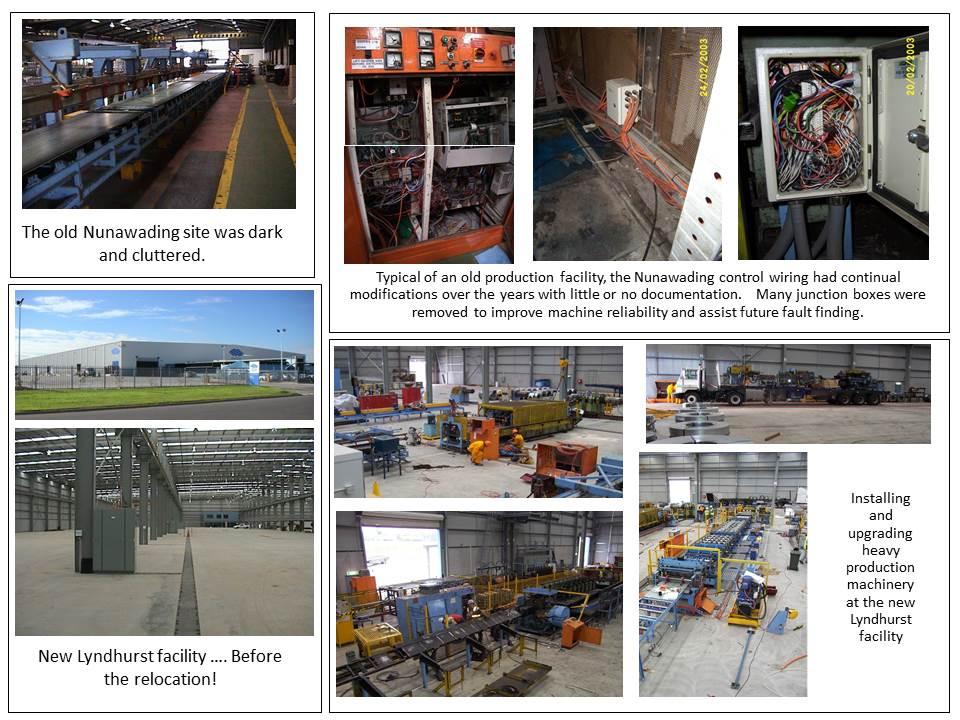 Industrial Electricians Project:
Mahle - ACL Dynamometer Facilities Relocation Project
The dynamometer facility relocation for Mahle-ACL consisted of the disassembly of the workshop electrical systems, Dynamometer Cell controls, fire systems and associated plant (Chiller & Cooling systems) at the Maidstone facility.
Guidelines from our client requested the reuse of as much of the original equipment from the Maidstone facility to reduce costs while ensuring correct reliable operation.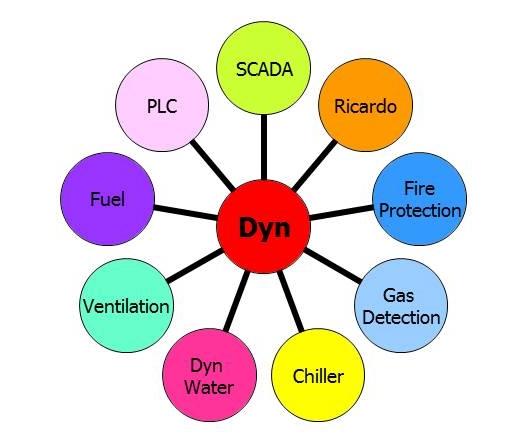 As there was no detailed specification, the new plant was based solely on client comments. The design and implementation was based on a client "wish list" brought to fruition by the vast knowledge of ATS.
Overall, the relocation was a great success for all concerned. The project, without a detailed specification, has exceeded the clients expectations due to the ease of control and monitoring of the facility.
To have taken old, antiquated equipment from the Maidstone site and turned it into a fully functional test facility at Laverton, is a credit to the effort put in by all ATS tradespeople.